You can receive interest credits based on a portion of the increase of a financial market index, but are guaranteed to never lose money due to market loss.
In short, we credit you a portion of the index's growth, while protecting you from all market loss. 
Some Market Participation. No Market Downside.
Here's an example of how the S&P 500® Annual Point to Point Index Account with a hypothetical 6.50% annual cap applied within Foundations can help protect and grow your account value (assuming contract was purchased on December 31, 2001):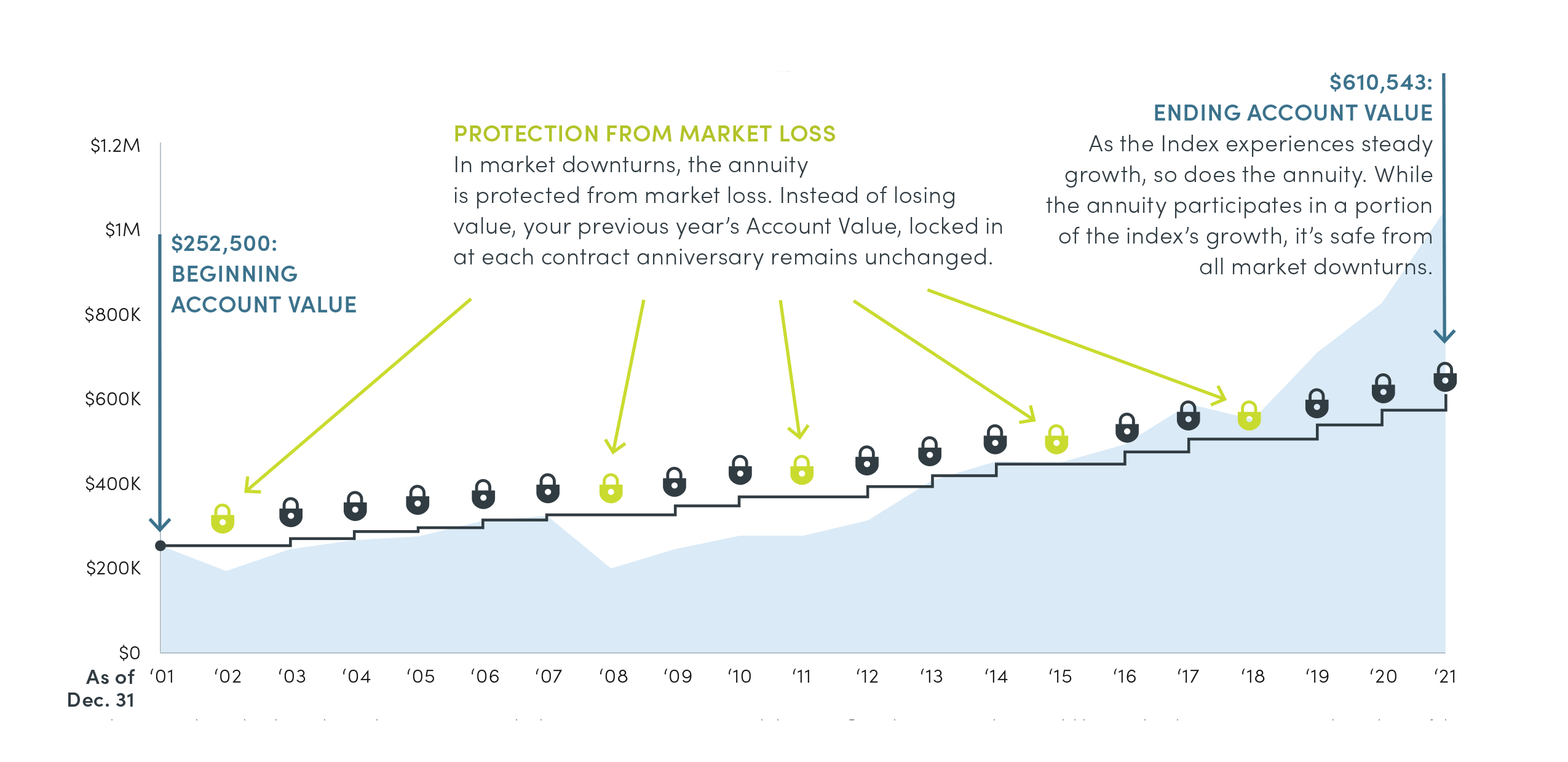 The Foundations Annuity was not available until December 2012. Simulated index performance utilizes backward looking projections and should not be relied on as a predictor of future index performance, which may differ substantially from the simulated performance reflected in this example. In addition, the actual caps, spreads and participation rates, were different than what is assumed for this example, which is provided for demonstration purposes only. Caps, spreads, and participation rates are set at our discretion at the beginning of each Index Term based upon factors we consider relevant, including market conditions. It was not possible for a consumer to have received the interest credits shown in this retrospective example. Actual interest credits for a purchased annuity contract will be based on the allocations selected by the owner, the performance of the underlying indexes for any index accounts to which contract value is allocated, and the respective caps, spreads, and participation rates applicable to those index accounts. Withdrawals are subject to ordinary income tax and if made before age 59½, may incur a 10% IRS penalty tax and may be subject to product-specific charges. Review the product brochure for information on all available index accounts.

Foundations Product Brochure
To learn more about all the crediting strategies within Foundations, read our product brochure.  
Talk to your financial professional to see whether a Foundations Annuity can complement your retirement portfolio.