Inflation + Rising Rates + Market Volatility = Uncertainty
Turn Headwinds into Tailwinds
Create Certainty for Your Clients
Current economic conditions have created high levels of uncertainty for many people in or nearing retirement, causing them to reevaluate their current financial and retirement planning. Security Benefit is offers three solutions that can help provide your clients with the certainty they are seeking.

How Can You Help Create Certainty With Security Benefit?
Principal protection
Interest earned based on part of the positive changes in certain market indexes
Tax-deferred accumulation
Ability to automatically benefit as rates rise
Strategies and Sales Ideas
Today's tough economic situations can make it challenging to engage clients worried about safeguarding their savings. With our suite of sales ideas, you can offer solutions to help them weather the storm.
Overcoming Headwinds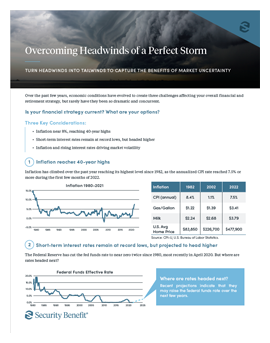 Educate your clients about the three economic conditions and how they are currently driving market uncertainty.
Bonds on the Bubble?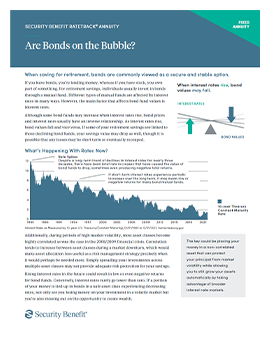 In a rising rate environment, bonds may lose value. Introduce your clients to a bond alternative specifically designed to benefit them automatically as rates rise.
Protected Accumulation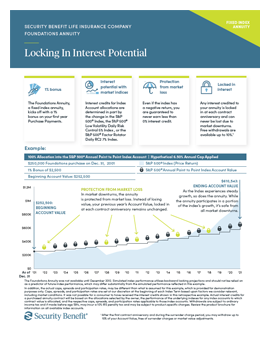 Offer your clients accumulation potential while avoiding all market losses. This piece illustrates the growth over time, benchmarked against the S&P® 500 index.
Available Solutions for Current Headwinds